Website Last Updated: July 23, 2012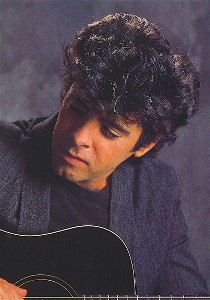 Billy Burnette has spent the last several decades bringing his eclectic brand of musical styling to the masses. And, after such a long time in the business, he's acquired quite the impressive resume. The son of Rockabilly pioneer Dorsey Burnette, Billy has been playing and recording music professionally since he was a very young child - recording his very first single at the age of 7 and his first album when he was only 11 years old.
As this musical prodigy matured, he came into high demand as a songwriter and studio/touring musician. He's penned tunes for a long list of legendary performers, including Roy Orbison, Rod Stewart, Jerry Lee Lewis, The Everly Brothers, Cher, and Ray Charles, among others. Guest appearances include work on Roy Orbison's Mystery Girl (1989) and Deja Vu All Over Again (2004) by John Fogerty (and he has been touring as part of Fogerty's band).
In addition to his work as a songwriter and studio musician, Billy Burnette has been an integral part of the history of the band Fleetwood Mac, beginning with his role in Mick Fleetwood's side project, Mick Fleetwood's Zoo. More notably, Burnette (along with blues guitar virtuoso Rick Vito) filled the void left by Lindsey Buckingham and joined the band on the road in support of their album Tango In the Night. He also recorded two studio albums - Behind the Mask (1990) and Time (1995)- with Fleetwood Mac before returning to his solo career. Other notable collaborations include a performance on Saturday Night Live as part of Lindsey Buckingham's backing band The Chollos, a duet with Stevie Nicks (recorded for her album Rock a Little, but ultimately not used), a brief stint as a member of John McVie's Gotta Band, and co-writer on a track from Christine McVie's 2004 album In the Meantime.
Although he has often experimented with other roles - including some brief (and obscure) forays into acting - Billy Burnette's main focus has always been his career as a solo artist. As Billy Burnette (his early recordings were released under the moniker "Billy Beau") , he has released 12 solo albums (as well as one album as part of the duo Bekka and Billy with fellow Fleetwood Mac-er Bekka Bramlett and one album as part of a duo with Shawn Camp) and has appeared on various soundtracks and compilations. His most recent release is 2011's Rock N' Roll With It - available as an iTunes download and as a limited edition compact disc.
*Much of the information for this site was gathered from the biographies, discographies, and Q&A sessions at FleetwoodMac.net.